O 50 Congresso Brasileiro de Ortopedia e Traumatologia (CBOT) ocorreu nos dias 15 a 17 de novembro de 2018 no Rio de Janeiro. Durante o evento, o Dr. Ricardo Becker apresentou ao público a palestra nacional intitulada "Tumores Ósseos: Quando Biopsiar e Quando Acompanhar". Além deste tema, apresentou na forma oral temas livres sobre o tratamento ortopédico dos tumores da família Ewing dentro do Grupo Colaborativo Latinoamericano. Por fim, participou de mesas redondas sobre casos cirúrgicos em ortopedia oncológica e da plenária da Associação Brasileira de Oncologia Ortopédica que ocorre no anualmente no CBOT.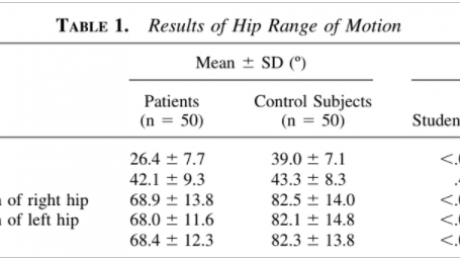 João L. Ellera Gomes, M.D., Ph.D., Jaqueline Vieira de Castro, P.T., and Ricardo Becker, M.D.
Purpose: Our purpose was to investigate whether there is an association between decreased hip range of motion and noncontact anterior cruciate ligament (ACL) injuries in soccer players. Methods: In this case-control study, 50 soccer players with noncontact ACL injuries confirmed by surgery had their hips examined and compared with those of a control group. Findings were statistically analyzed according to 2 cutoff points (70° and 80° of total internal-external rotation sum) for both groups. Results: A significant decrease in hip range of motion was found in 38% of all individuals studied at the lower cutoff point (70°) and for 64% at the upper cutoff point (80°). The decrease in hip range of motion was greater in the group with ruptured ACLs than in the control group, with little difference between the 2 cutoff points (70° and 80°). The difference between patients and control subjects was statistically significant (P .001). Conclusions: There was a strong association between decreased hip range of motion and ACL ruptures in soccer players, not only but mainly because of internal rotation lessening. Despite lacking comparison with other sports, our findings showed a higher decrease in hip range of motion in the group of soccer players when compared with the general population. Level of Evidence: Level III, prognostic case-control study. Key Words: Noncontact anterior cruciate ligament injuries—Soccer players—Ligament lesions—Surgery.
The rupture of the anterior cruciate ligament (ACL) and its consequences with regard to athletic performance have been investigated in a large number of studies that focus on the surgical management of this problem,1,2 but the reason why some athletes rupture their ACL in noncontact injuries whereas others do not remains an intriguing issue. Some possible explanations are hormonal variations in women,3-5 proprioceptive deficiencies,6,7 and predisposing bone structure abnormalities, such as excessive posterior tibial slop8,9 or intercondylar narrowing.10 In fact, the number of studies investigating prevention of ACL rupture through the identification of predisposing anthropomorphic factors is much lower than the number of studies describing surgical results. Although some studies include the hip joint in the lower limb kinematics,7,8,11,12 most of them are restricted to knee biomechanics.8,9,13-15 If predisposing factors are defined, it may be possible to prevent lesions and the associated personal and economic costs.
Because we observed a decreased range of motion in a large number of patients with reruptures of ACL reconstructions, we decided to investigate the range of motion in soccer players with first-episode ACL ruptures. We hypothesized that there would be an association between decreased hip range of motion and noncontact ACL injuries.
METHODS
Fifty male patients with surgically confirmed ACL ruptures caused by noncontact trauma while playing soccer were evaluated to measure their hip range of motion, and findings were compared with a control group of unaffected male soccer players. The exclusion criteria were age younger than 18 years or older than 35 years, previous knee or hip surgery, and hip complaints of any nature. All 100 individuals were nonprofessional athletes who played soccer since
childhood. Although the cases and control subjects were not matched pairs, there was an equivalence among them regarding the amount of time spent playing soccer during the week.

The examination of hip range of motion was performed by 2 observers with the patients lying on their backs with the hip and the knee at 90° of flexion. We believe that a more relaxed examination can be performed with the patient in the supine position when compared with the seated position, as proposed by other authors,6,16 without compromising measuring accuracy. Internal rotation and external rotation were checked with the hip in neutral rotation, and the endpoint was reached when passive motion in any of the 2 directions started to move the pelvis. Rotation was measured with an external manual goniometer and recorded in degrees, with 0° being neutral. Radio-
graphs were taken of the hips of the patients with ACL ruptures as a preoperative routine protocol.
Previous reports about normal range of motion have shown high scores for internal-external rotation (also known as inward-outward rotation), with the mean sum of both being 95° according to some authors.16 Because we have been detecting fewer mobile hips in the general population of soccer players, we decided to adopt lower cutoff points, so as to be more in conformance with the studied population. Therefore the cutoff points for the upper limit were 10° and 20° below the normal mean value: 80° and 70°. Findings were compared and analyzed statistically by use of the
2 test, t test, and covariance analysis.
The study protocol was approved by the Ethics Committee at the Hospital de Clínicas de Porto Alegre, Brazil, and informed consent forms were signed by all study participants.
RESULTS
One hundred male individuals with a mean age of 25.7 6 years were enrolled in the study. Mean age was significantly different between groups (P .001), being greater in the patient group (28.1 5.7 years) than in the control group (23.3 5.4 years), and so an analysis of covariance was used to control for age. As shown in Table 1, all hip range-of-motion parameters (external rotation and internal rotation, as well as their sum) were decreased in patients with ACL rupture when compared with control subjects, except for mean external rotation (P .484) when adjusted for age. Patients had a decrease in mean internal rotation (P .001), in the sum of internal rotation and external rotation of each side, and in the total sum of both sides (P .001). As hypothesized, we could find an association between de-
creased hip range of motion and noncontact ACL injury.
When the range of motion was classified according to a cutoff point of 70°, 60% of the patients (n 30) had a decrease in hip range of motion, whereas only 16% (n 8) of control individuals had a similar decrease. This result indicates that the patients with ACL rupture were more likely to have a decrease in range of motion than the individuals in the control group (odds ratio,7.87; 95% confidence interval, 3.07 to 20.4) (Table 2).
In the analysis using the cutoff point of 80°, 88% of the patients had a decrease in hip range of motion, whereas 40% of the individuals in the control group had the same decrease, which resulted in a greater odds ratio for the patient group (odds ratio, 11; 95% confidence interval, 3.95 to 30.3). Our findings show decreased hip range of motion occurring not only but mainly because of internal rotation lessening.
DISCUSSION
Although results from previous studies on the practice of physical activity, such as running, jumping, and walking, showed the influence of the hip on the knee biomechanics,5,7,12,16-18 none of the studies has established a direct correlation between changes in hiprotation and noncontact injuries of the ACL. The importance of the elbow in pronation/supination of the wrist is common knowledge, but the same does not apply to the knee. Surprisingly, we treat the knee alone, as if no upper or lower part could somehow influence its functional biomechanics, even though,
when studying the knee in association with other joints, we observe the hip adaptation, for example, in patients with ACL ruptures.7

Our findings suggest that physical abnormalities of the hip may be significantly associated with ACL ruptures due to noncontact trauma. In the group of soccer players that we studied, almost 3 out of 4 patients had some degree of compromise of the full range of hip motion, and this impairment of the hip joint was measurable by physical examination. Despite the clinical abnormalities, however, none of the patients had any complaints of pain in their hip joints, and not even patients who reported having difficulties in performing certain curved-ball kicks referred to any symptoms.
When we decided to include the hip joint examination as part of our routine knee evaluation, we extensively searched for the best position in which to perform this measurement. The conventional hip examination,
which evaluates the patient in a prone position, tends to increase the chances of reducing the hip mobility by stretching an overly powerful quadriceps muscle developed by repetitive kicking exercises, a common finding in soccer players. In those athletes the balance between flexor and extensor muscles of the thigh generally does not exist, with the extensors being much stronger than the flexors. However, with the patient lying on the back with the knee and hip flexed at 90°, the examiner can fully relax the quadriceps, neutralizing its dynamic and static strength, even though this does not reflect the standing position of a soccer player, with both joints extended or slightly
flexed. In addition, angles below 90° do not provide areliable visual reference, and thus we concluded that
the 90° position was in fact the most appropriate to provide us with the answers for which we were searching.
Although our results may help to explain some of the noncontact injuries of the ACL by the transfer of an upper movement to the nearest lower joint, these findings bring up many questions. Was the decrease in hip range of motion a consequence of an acquired problem resulting from playing soccer starting at an early age or a worsening of an unnoticed pre-existing congenital dysplasia? Soccer is played only with the lower extremities, and the fact that the arms are not used invariably overstresses the joints in the lower extremities. If that is correct, the aid of compensatory stretching exercises starting at youth could minimize or even prevent the appearance of such problems. These questions deserve further investigation, and additional studies should be conducted in the near future. Moreover, on the basis of our findings, doubt could arise as to whether the tight hip prompted the ACL injury or the ACL injury caused the tight hip. However, although all patients with ruptures had undergone surgical intervention between 3 and 16 months after the initial injury (mean, 8.76 months), 54% of the patients (27/50) presented radiologic alterations at the level of the hip (such as acetabular osteophytes, capsular calcifications, or femoral osteophytes), whereas only 14% (7/50) presented blockade with no radiologic alterations. Despite radiologic evaluation not being the focus of our study, it proves to be of great importance in the understanding of the associated
etiologic genesis of the problem between the hip and the knee.
At the beginning of our study, remarkably significant differences between patients and control subjects were not expected. We considered that this population could possibly present a range of hip mobility lower than that found in a population of players of other sports, such as basketball, bridging an association with findings described by other authors.19 On the basis of our findings, we intend to carry out further research in this area, applying revised methods of data collection. That is especially important because we were not able to fully explain or to detect a clear cause-and-effect relation between decreased hip range of motion and ACL ruptures. Nonetheless, we believe that these results highlighted areas that may deserve some attention from surgeons dealing with sports and athletes.
CONCLUSIONS
Decreased hip motion was observed in patients with noncontact ACL injuries. These results highlight the need for new studies across other sports modalities to draw more comprehensive conclusions with regard to this topic. Examining the hip range of motion should become a routine part of the surgical decision-making process in soccer players with unstable knees.
REFERENCES
1. Biau DJ, Tournoux C, Katsahian S, Schranz PJ, Nizard RS.
Bone-patellar tendon-bone autografts versus hamstring autografts for reconstruction of anterior cruciate ligament: Meta analysis. BMJ 2006;332:995-1001.
2. Yunes M, Richmond JC, Engels EA, Pinczewski LA. Patellar versus hamstring tendons in anterior cruciate ligament reconstruction: A meta-analysis. Arthroscopy 2001;17:248-257.
3. Eiling E, Bryant AL, Petersen W, Murphy A, Hohmann E. Effects of menstrual-cycle hormone fluctuations on musculotendinous stiffness and knee joint laxity. Knee Surg Sports Traumatol Arthrosc 2007;15:126-132.
4. Uhorchak JM, Scoville CR, Williams GN, Arciero RA, St Pierre P, Taylor DC. Risk factors associated with noncontact injury of the anterior cruciate ligament: A prospective four year evaluation of 859 West Point cadets. Am J Sports Med 2003;31:831-842.
5. Woodford-Rogers B, Cyphert L, Denegar CR. Risk factors for anterior cruciate ligament injury in high school and college athletes. J Athl Train 1994;29:343-346.
6. Allander E, Bjornsson OJ, Olafsson O, Sigfusson N, Thorsteis- son J. Normal range of joint movements in shoulder, hip, wristand thumb with special reference to side: A comparison between two populations. Int J Epidemiol 1974;3:253-261.
7. Houck JR, Duncan A, De Haven KE. Knee and hip angle and moment adaptation during cutting tasks in subjects with anterior cruciate ligament deficiency classified as noncopers. J Or- thop Sports Phys Ther 2005;35:531-540.
8. Iwaki H, Pinskerova V, Freeman MA. Tibiofemoral movement 1: The shapes and relative movements of the femur and tibia in the unloaded cadaver knee. J Bone Joint Surg Br 2000;82: 1189-1195.
9. Meister K, Talley MC, Horodyski MB, Indelicato PA, Hartzel JS, Batts J. Caudal slope of the tibia and its relationship to noncontact injuries to the ACL. Am J Knee Surg 1998;11:217-219.
10. Souryal TO, Moore HA, Evans JP. Bilaterality in anterior cruciate ligament injuries: Associated intercondylar notch stenosis. Am J Sports Med 1988;16:449-454.
11. Fuss FK, Bacher A. New aspects of the morphology and function of the human hip joint ligaments. Am J Anat 1991;192:1-13.
12. Loudon JK, Jenkins W, Loudon KL. The relationship between static posture and ACL injury in female athletes. J Orthop Sports Phys Ther 1996;24:91-97.
13. Freeman MA, Pinskerova V. The movement of the normal tibio-femoral joint. J Biomech 2005;38:197-208.
14. Shoemaker SC, Markolf KL. The role of the meniscus in the anterior-posterior stability of the loaded anterior cruciate-deficient knee. Effects of partial versus total excision. J Bone Joint Surg Am 1986;68:71-79.
15. Roach KE, Miles TP. Normal hip and knee active range of motion: The relationship to age. Phys Ther 1991;71:656-665.
16. Boone DC, Azen SP. Normal range of motion of joints in male subjects. J Bone Joint Surg Am 1979;61:756-759.
17. Ahlback S, Lindahl O. Sagittal mobility of the hip-joint. Acta Orthop Scand 1964;34:310-322.
18. Pollard CD, Sigward SM, Powers CM. Gender differences in hip joint kinematics and kinetics during side-step cutting maneuver. Clin J Sport Med 2007;17:38-42.
19. Ellenbecker TS, Ellenbecker GA, Roetert EP, Silva RT, Keuter G, Sperling F. Descriptive profile of hip rotation range of motion in elite tennis players and professional baseball pitchers. Am J Sports Med 2007;35:1371-1376.